BOOK II REFERRAL PROCEDURE
REFERRAL LIST PROCEDURES
BOOK II
When an applicant is laid-off or unemployed, he/she may sign the Book II Out-Of-Work list at the Local 490 offices Monday through Friday between the hours of 8:00am and 4:00pm.

At the time of initial sign-up, member must show proof of being up to date on their dues.

You must have a NH Electricians license to work in New Hampshire and a Maine Electricians license to work in Maine.

Anyone on the Book II list that accepts employment in any other Local Union, including their home local, MUST notify Local 490 that they are working. You will then be removed from Book II. You are NOT allowed to be carried on the Book II list if you are employed at any other local, including your home local.

To maintain your position on the Book II list, you must sign the book once a month, in one of the following ways:

Sign the book beginning on the 10th and ending on the 16th of each month in person.

Mail or e-mail a postcard or letter indicating your continued unemployment and desire to remain on the list. The postmark must show a date no later than the 16th of the month.

Send a letter via fax or e-mail on letterhead from your home local to be received no later than the 16th of each month.

Upon receiving confirmation from the Referral Agent that the applicant has received the referral, the applicant must report to the Union Hall during normal business hours to receive his/her Referral Slip and sign the Authorization for Payroll Deduction for their Working Dues

Individuals can take a call for two (2) weeks or less, three (3) different times before they shall lose their place on the Book II list. Any member that quits or is fired for cause must re-sign the list.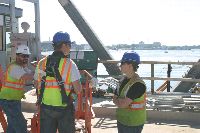 Page Last Updated: Jul 25, 2022 (07:19:45)