Local IBEW 490 member, Jeffrey Hall assists in fulfilling child's dream
CONCORD, NH — It's always a great day when wishes come true.
Recently, The International Brotherhood of Electrical Workers, Local 490 in Concord, did just that, according to a press statement.
Ali Redman, of Goffstown, is an energetic 11-year-old boy suffering from Acute Lymphoblastic Leukemia. Diagnosed in June 2015, Redman went to the emergency room complaining of a migraine and shortly after being admitted and receiving an MRI they transferred him to another hospital for more treatment.
Ali's mother, Ann Redman, began working with Make-A-Wish to bring some extra cheer into Ali's life.
"His wish was a room makeover," she said. "He got his room painted, a wall mural, a 55-inch TV, PlayStation and games, new furniture and a ceiling fan."
The ceiling fan was installed by IBEW Local 490 member Jeff Hall, free of charge.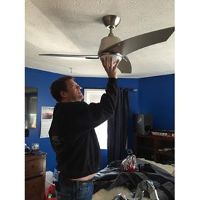 "It's a great feeling to give back to someone in need," said Hall. "I am proud to be part of an organization that so often thinks of others during a difficult time in their lives."
Currently, Ali is in the maintenance phase of his cancer battle. He will require monthly chemotherapy and daily oral chemotherapy for two and a half more years. Ali will turn 12 years old on March 30.
"We are dedicated to helping every member of our brotherhood, whether it be our members, their families, or, like the Redman's, a family in our community requiring assistance, support, and love," added IBEW Local 490 Business Manager, Denis R Beaudoin Sr.